How 2018 Trends Can Help You Create Your Perfect Wedding
⌛ By LeAnna Owens ⌛
"Once in a while, right in the middle of an ordinary life, love gives us a fairytale." -Unknown
As we head into 2018's peak wedding season (spring to fall), many soon-to-be brides will be happy to know that Hourglass Omnimedia is just the place to find the latest trends in 2018 weddings! Whether it may be color schemes, themes, food, dresses or creative new ideas you're looking for, Hourglass is the place to find them. Not only does Hourglass Omnimedia have a finger on the pulse of new wedding trends and unique wedding ideas, we also do event planning and can help you design a one-of-a-kind wedding invitation!
Contact Kaylin Staten to schedule your appointment today! We can help you at the beginning of the process or help you with coordination on the day of your wedding and reception.
Colors
2018 weddings will be filled with new and exciting color schemes. According to sources such as Brides Magazine and the Wedding Wire, navy is the new black. Accompanying Navy, some popular color schemes include blush, mauve, and burgundy. All shades of greenery are going to be popular this wedding season! Textures, such as marble and copper, will be incorporated as well.
Black is making a comeback in an unexpected way -- through the wedding gown. Many wedding gown designers are incorporating black designs on their wedding gowns this season, and these gowns look fantastic with a classic theme.
Themes
Many of the blush pinks, dusty rose, and shades of green work together with the rustic and woodsy themes, which are predicted for 2018. Another theme will be high drama, which calls for glamorous venues, and unforgettable receptions. For these high drama weddings, the bigger the better, they use glitter, glamour, and just a touch of extravagance to create an unforgettable evening. Many, including our own Kaylin Staten, will be happy to know vintage themes will continue to flourish in 2018.
Food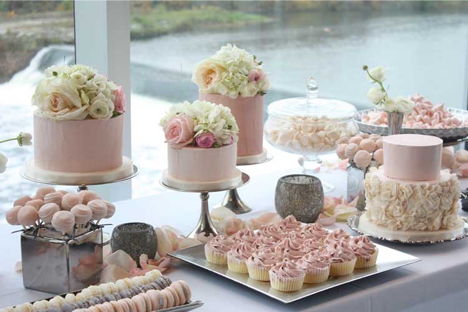 Donuts, Donuts, Donuts! This year, dessert is king and donuts are his crown! We've seen many unique dessert tables and will help you formulate a plan for a variety of desserts for you and your guests. Who says you can't please everyone?
Couples everywhere are choosing their favorite foods to serve their guests, including everything from pizza to quesadillas to sushi. This is a new trend that we are very excited about. The menu represents the couple and creates a unique reception. With these fantastic foods come edible place holders on the table!
New Creative Ideas
Some of our favorite new ideas this wedding season include elaborate hanging floral installations, which not only look beautiful but also free up room on the tables for simple candles or distinctive centerpieces. These hanging flowers are sure to impress your guests and they create a magical environment filled with love.
Translucent glass houses are a new creative idea for wedding venues. These venues are dramatic and gorgeous and often feature translucent furniture.
2018 is full of innovative and exciting trends which are easily obtainable with the help of Hourglass Omnimedia. Let us help you make your special day perfect!
Contact us using the form below to schedule time to talk about the wedding of your dreams and how we can help you build your fairytale day!
Copyright © MMXVIII Hourglass Omnimedia, LLC
LeAnna Owens is a Marshall University student debuting as Hourglass Omnimedia's first intern. She lives in Milton, WV.
⌛ ⌛ ⌛