Planning a Wedding: Public Relations Style
⌛ By Kaylin R. Staten ⌛
Planning your own wedding as a public relations professional is both a blessing and a curse.
It's something most women dream about their entire lives, and I was no exception. I imagined walking down an aisle of golden rose petals in my ruby slippers to my husband, wearing a fresh red dahlia in my hair (a la my weird obsession with The Black Dahlia) and an ivory lace gown.
Those exact things did happen, and on May 13, 2017, I married the love of my life, Jared. He's the match made in heaven to my geeky, anxious, perfectionist soul. We matched on Tinder in early January 2016, and from that point, we have been inseparable. (We adopted a cat child, Ilia Garnet, for goodness sake.) When he proposed in early September 2017, my planning wheels began spinning. Of course, I had a secret wedding planning board on Pinterest with a slew of ideas, so I was already well on my way to making key wedding decisions.
Now, precisely 10 months later and before spring-to-fall wedding season begins, it's finally time to share my takeaways from planning my own wedding, coined #StatenOfOurUnion. (Usually, my husband is the one full of puns, but Mrs. Staten thought of that one during a period of wedding inspiration.) I wanted to write this blog post a long time ago, but you know, I was enjoyed being a newlywed and doing things #behindthehourglass, sooooo….
Here are five things I learned during the wedding-planning process.
It's easier planning someone else's event.
I have been at the helm of several professional and personal events, and I enjoy planning every detail that encapsulates a moment and contributes to the big picture of the event. I've been planning events since at least my college days, when I helped my mom plan my Ninny's (grandmother's) 60th birthday and retirement party. (Shoutout to my mom for teaching me about event planning in the first place.) I enjoyed putting together slideshow videos, creating centerpieces, carefully crafting invitations and more. I was the Maid of Honor at #BentleWedding2014, when my sister and brother-in-law got married. I helped plan the wedding then, and it was fun. I loved putting my detail-oriented skills to good use.
Having a business has taught me how to budget and spend money to make money, but it's still challenging to let go of earmarked wedding money, make decisions and take everything into consideration. Don't get me wrong. I LOVED the planning part of my wedding; however, if you're a hands-on bride like yours truly, hire a day-of coordinator, at least for the wedding ceremony. Your mother — or any other guest — shouldn't have to tell people when to walk down the aisle ahead of the bride. This is something that Jared and I wanted to do for our wedding, and it worked swimmingly. For once, it was nice having someone just tell me what to do and where to be.
Be diligent with time management.
One of my main suggestions is to plan blocks of time to complete wedding tasks. Don't deviate from the schedule, unless an absolute emergency arises. In that same vein of thought, don't put too much on your plate. I am the queen of master planning, but there were times I planned too much, which severely spiked my anxiety and panic attacks. I always receive lessons in delegation from the universe and others, and wedding planning was no exception. So, delegate the tasks — no matter what they are! If you must, save your most fun tasks for yourself, but as the bride, you shouldn't be doing more than other people at every point. *Lessons learned.*
Don't break down. Or if you do, it's OK. Although you're watching your figure, just have that cookie. Or a whole package of Lemon Oreos.
Do what you want.
I know this is easier said than done. And in some capacities, I didn't follow through with this. Everyone's situation and preferences differ. There were times I focused too much on my target audience: the people in attendance at the ceremony and reception. Would they be bored when we took husband/wife photos? Would they like the food? Would they notice that I messed up the hashtag symbol on the handwritten #StatenOfOurUnion place cards beside the carefully arranged faux-flower centerpieces? Most likely the answer to all of my pressing questions was and is a stern, "no." Step away from the planning for a moment to gain some perspective. Hopefully, you will have an amazing significant other like I do and will have all of the support you need with planning and stress relief.
My entire existence has been a battle to showcase my truest, most authentic self. This continued on my wedding day, but you know what? It's OK to let go of your inhibitions and enjoy the best day of your life. As Drake and the generation behind me (or maybe still the younger millennials) say, #YOLO.
Things will go wrong.
I hate to break it to you, but there will be at least one thing that will go wrong on your wedding day. I'm an optimist, but I'm a realist, too. Jared dealt with the local tuxedo rental company (no name calling, but I will say I didn't like their attitudes toward women) the day of the wedding. Before the wedding, our rehearsal dinner fell through, so Jared saved his future wife from Breakdown #1,786 and planned dinner at another local venue. Although I wanted the nostalgia of the other place, everyone was able to enjoy the best blueberry cobbler ever. So, there's that.
So, embrace all of it. If a relative brings a +1 you don't like, if the cake doesn't look like your Pinterest board, if the ring bearer colors with crayons all over the rented tablecloth… just embrace the moment. You will laugh about most of it later.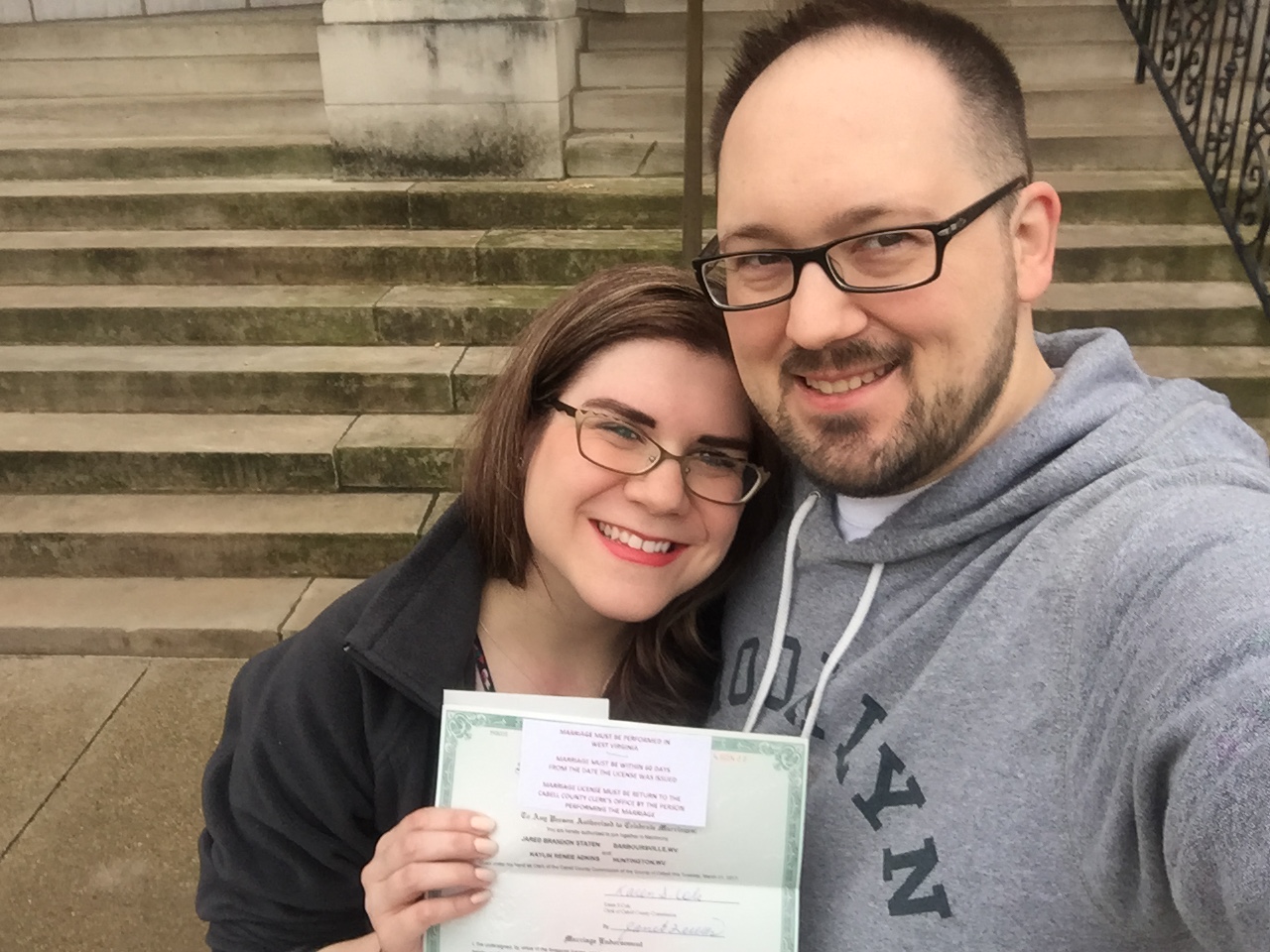 Enjoy the process!
Our wedding theme was vintage storybook, and the materials (Save-the-Date bookmark, invitation, program and all related items) told our origin story with our exact Tinder match screenshot, and a mixture of cursive and typewriter fonts and the exact Pantones I wanted. To this day, I am still in love with the color scheme, the classic compilation of red, black and gold. I also loved showcasing the skills I've always had, from my writing and concept-creation skills to my gift with a can of gold spray paint for the recycled teacups and vases.
This was a one-shot planning deal, so my suggestion is to enjoy the moments. Even the stressful ones. You can tell your children someday what a control freak you were about the dahlias in your bouquet or the hanging lantern lights at the reception. And, for the love of everything, do something fun outside of wedding planning, work and the other stressors of life. I don't do that enough, and I wish I would have done it more during this process to ease some of the stress.
#StatenOfOurUnion Quick Facts:
Colors: Red, Black, Gold
Hashtag: #StatenOfOurUnion
Flowers: Dahlias, ranunculus, roses, poppies
Something Borrowed: My WVD pin (my Granny's pin), my mom's pearl ring
Something Blue: Garter
Theme: Vintage Storybook
I have experience planning major events, so feel free to outreach to me if you'd like some help planning your wedding or another special event. Contact me below if you find yourself in the middle of a wedding S.O.S.!
If you're looking for a storybook-themed invitation with a modern flair, look no further than our own rendition of a classic wedding staple. This is a template based on the #StatenOfOurUnion invitation (with the names of characters in the upcoming Paper Dahlias.)
Copyright © MMXVIII Hourglass Omnimedia, LLC
Kaylin R. Staten is an award-winning public relations practitioner and writer. She owns Hourglass Omnimedia, a consulting company based in Huntington, WV.
All professional photos by Mark Webb Photography.
⌛ ⌛ ⌛